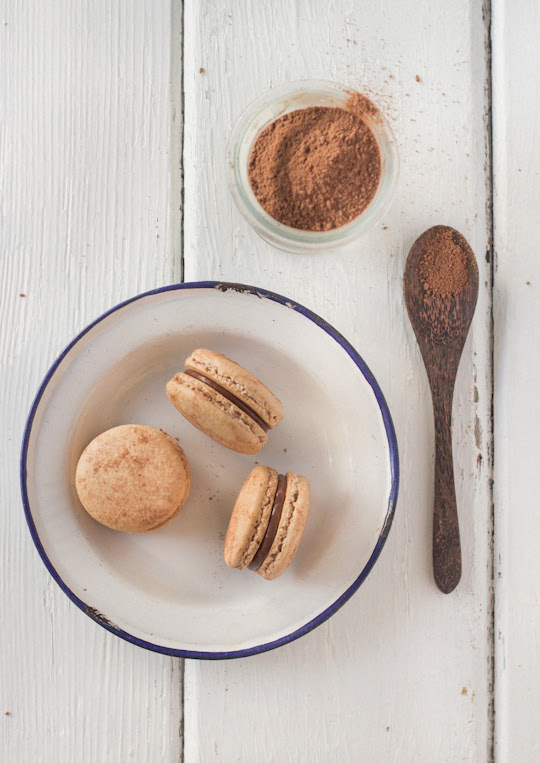 Macarons.They've garnered a bit of a reputation haven't they? You know that there's a macaron craze going on when they start selling them at Maccas. Some people might turn their noses up at this trend, but I believe I'll still be making these little cookies even after the madness passes. I like to call them cookies because it takes some of the pressure off them, the expectation that they'll somehow taste so good they'll change your life and the terror that comes with the thought of trying to making them at home. In the end they're just another cookie. Like most store-bought baked goods, there's plenty of mediocre macarons that are sold in stores. They can be dry and crunchy, weird-flavoured, tasteless or just way too sweet. I totally believe it's worth the time and effort to make them yourself, there is something really rewarding about getting them right. There aren't many baked goods that I'd prefer to buy from a store than make in my own oven.
I've been making macarons for several years now. Every time I pop a tray of macarons into the oven I go through the same ritual; I wait patiently for a few minutes and then eagerly peer through the oven door glass to check if they have developed 'feet', that unmistakable crinkly edge on the bottom of each macaron shell. It's one of the signs of a successful macaron and always makes me break out in a little celebratory "YAY there's feet!" dance in the middle of my kitchen. It never gets old, the small satisfaction that comes with making good batch of macarons.This particular batch incorporates one of my favourite baking flavours -
Milo
. They're full of chocolatey, malty goodness.
Many people tell me that they're too scared to try making macarons but I am always trying to convey the idea that there is nothing too intimidating about these little sweets. I've made them in all kinds of flavours and I have a particular love for animal-themed macarons;
chicks
,
koalas
,
cats
,
pigs
,
bunnies
. There's so much fun to be had with them. It really comes down to a few important points: be prepared, practice and know your oven. Read up on all the great macaron tutorials that are available online (I'm a fan of
BraveTart's
). Weigh out all your ingredients (preferably with some good kitchen scales) before you start mixing anything and ensure that they're at room temperature. Make sure your meringue is whipped until it's very dry and stiff, and that you really deflate all the air out of the meringue when you mix it into your icing sugar and almond meal mixture. Always let your piped macarons sit out to dry for at least an hour, it ensures that they form feet. If you fail, don't give up! It may just need some tweaking. Every oven is so different, you have to adjust your baking temperature to suit the way your oven runs. For example, the oven in my last apartment was super old and had no fan. It tended to run really cool and I would usually set it to about 150°C. My current oven is fan-forced and seems to be way hotter than the temperature it is set to, so I usually set it to around 120°C for macarons. An oven thermometer will help you figure out how accurate your oven is, or if you're like me you'll get a feel for it the more you use your oven. But my main point for all of this is that you should never be too afraid to try making macarons, it's just a cookie! Once you get a hang of plain macaron shells you can experiment with other flavours like these
Milo Macarons.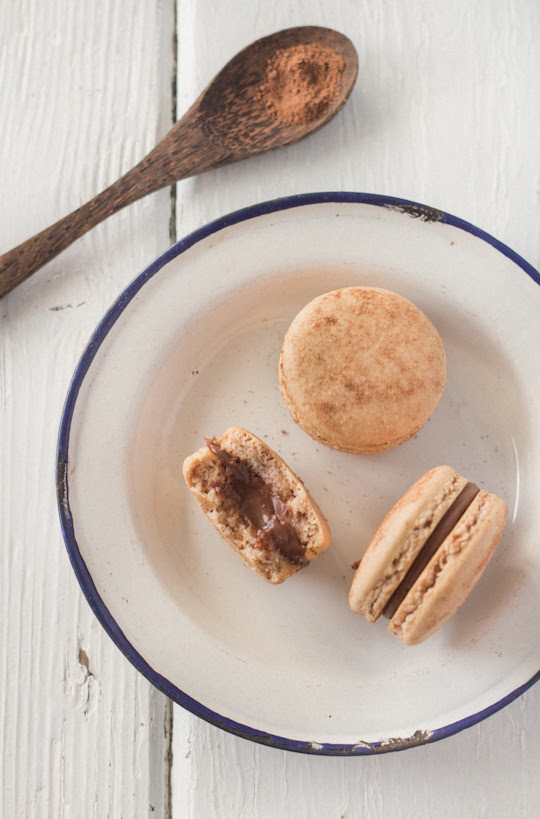 Milo Macarons
(makes 12-15 macarons)
For the shells:
100g egg white, at room temperature
1/2 tsp salt
110g almond meal, at room temperature and well sifted
185g icing sugar
15g Milo powder plus extra for dusting (replace with equal amounts of icing sugar if you want to try baking plain, unflavoured shells)
50g caster sugar
Optional:
1 tsp powdered egg whites (available from
The Essential Ingredient
), helps to stabilise egg whites but is not necessary
Line two baking trays with good quality baking paper. Place icing sugar in food processor and pulse for a minute to remove any lumps. Stir in almond meal and pulse for about 30 seconds to combine. (If you don't have a processor just sift together with a fine sieve.) Sift into a large mixing bowl and set aside. Using an electric mixer, beat egg whites and salt (and egg white powder) in a medium mixing bowl until it reaches soft peaks.
With the mixer on high speed, gradually add sugar and beat until it reaches stiff peaks. Add meringue to your dry mixture and mix together with a spatula, quickly at first to break down the bubbles in the egg white (you really want to beat all the large bubbles out of the mixture, which is easily done by smearing the mixture on the bottom and side of the bowl with your spatula), then mix carefully as the dry mixture becomes incorporated and it starts to become shiny again. Take care not to overmix, the mixture should flow like lava and a streak of mixture spread over the surface of the rest of the mixture should disappear after about 30 seconds.
Place mixture in a piping bag with a 1cm round piping tip. Pipe rounds about 3cm diameter on your prepared trays, leaving at least 2cm space around each one. Tap baking sheets carefully and firmly on the benchtop a couple times to remove any large bubbles. Leave to dry for about an hour, so that when you press the surface of one gently it does not break/stick to your finger. This will help prevent any cracking and help the feet to form on the macs. Preheat your oven to
130-150
°C, depending on your oven. You can place the sheet of piped shells on top of an upside-down roasting tray or another baking tray, for better heat distribution. Bake for 20-25 minutes, depending on the size of your shells. Carefully test if the base of the shell is ready by gently lifting one and if it's still soft and sticking to the baking paper, then it needs to bake for a few minutes longer. Remove from the oven and cool on the tray for a few minutes, then gently remove from the sheet, dip in extra Milo powder to dust the shells and place on a wire rack to cool completely.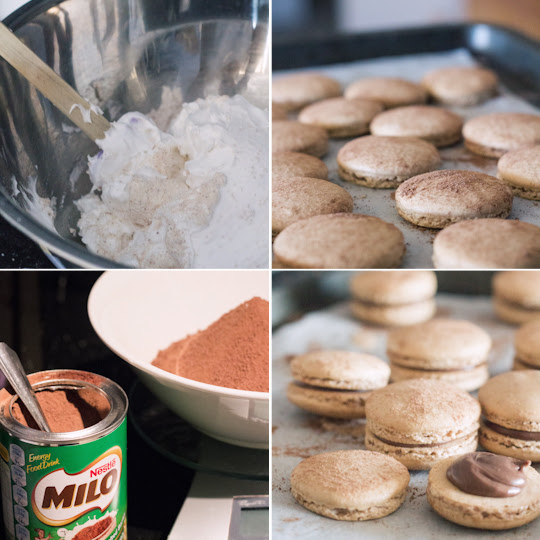 For the Milo Ganache:
100g good quality milk chocolate, finely chopped
100ml pure (heavy) cream
50g (about 1/2 cup) Milo powder
Place chopped chocolate and Milo powder in a mixing bowl and set aside. Heat cream in a small saucepan on medium heat until it just comes to the boil. Remove from the heat and pour over the chocolate and Milo. Leave for 5 minutes to allow the chocolate to melt, then use a whisk to combine all the ingredients until smooth. Chill in fridge until mixture thickens but is still pipable, whisking it every 10 minutes or so. Spoon or pipe between macaron shells. Refrigerate overnight in an airtight container to allow them to mature. Remove from the fridge about half an hour before serving so they come closer to room temperature.