Your eyes do not deceive you. It's cake that looks like a
giant piece of

Fairy

Bread
.
Fairy
bread
is such a funny thing, so many of us grew up with it as children in Australia but I've seen it receive mixed reactions from other people around the world. I guess it's just something you have to grow up with. I think it's pretty awesome. But I would, I love ANYTHING with sprinkles. Especially rainbow sprinkles.
I'm so in love with this cake because it combines so many of my favourite things.
Sprinkles. Cake
. Desserts that look like giant versions of other desserts (you might have seen my
Giant Tim Tam Cake
). This is the kinda thing that makes me happy. I truly believe that most desserts can be improved with the addition of rainbow sprinkles. Sure it's just sugar and food colouring (which is the root of evil in the eyes of many people these days), but there's something about 100s and 1000s that's so whimsical and fun.
I especially love this cake because it's such a simple idea. A plain vanilla pound cake, which I managed to bake into the shape of a perfect slice of
bread
(thanks to Lisa who let me borrow her
cakewich
pan), slathered with a salted butter icing and topped with lots and lots of happiness. Of course it wouldn't be
fairy
bread
unless it was cut into triangles, right? Since I'm not usually a fan of spending money on single-use kitchen appliances, I would suggest trying this recipe in a square pan instead of the cakewich pan. It won't be quite as cute, but once it's cut into triangles you'll get pretty much the same effect.
Since the recipe is for a vanilla pound cake, it is quite dense and moist so you need to ensure you don't overbake the cake as this will make it dry and hard. I took my cake out as soon as a skewer inserted into the centre cake out just clean. Alternatively you could use your favourite vanilla butter cake, sponge cake or chiffon recipe. I think it's a great treat for kids and for the kids at heart, and even people who don't like
fairy
bread
will enjoy it. Everyone needs more sprinkles in their life.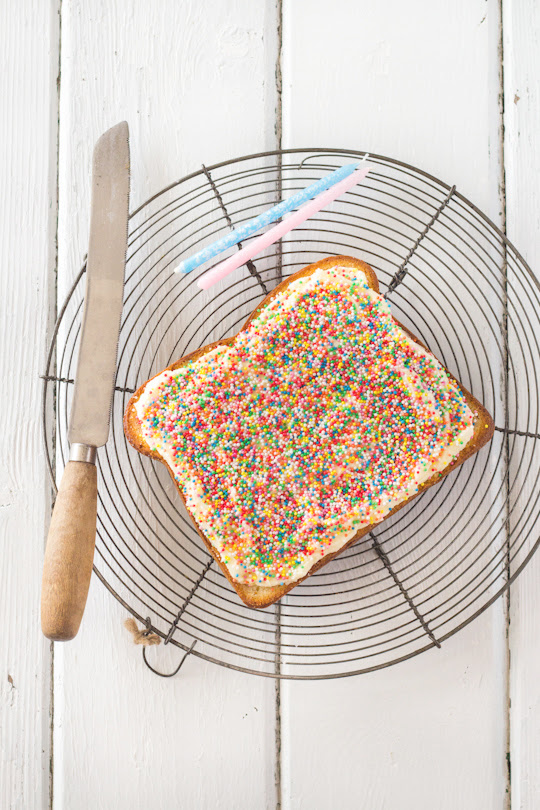 (adapted from the pound cake recipe on the Cakewich pan box)
For the cake:
250g (about 2 cups) plain flour
1 ½ tsp baking powder
¼ tsp salt
175g butter, softened
330g (about 1 ½ cups) caster sugar
1 tsp pure vanilla extract
6 large egg whites
¾ cup milk
For the icing:
125g salted butter, softened (or add 1/4 tsp of salt for unsalted butter)
250g (about 2 cups) icing sugar, sifted
1 tbsp milk
100s & 1000s (rainbow sprinkles) to decorate

For the cake, set the rack in the middle of the oven and preheat to 160°C (315°F). Grease the inner bottom surface of your Cakewich pan, alternatively you could try using a 20cm square cake tin that is greased and lined with baking paper. Combine the flour, baking powder and salt in a bowl, mixing well with a whisk. Whisk together egg whites and milk in a medium mixing bowl until just combined.
In large mixing bowl with an electric mixer, cream butter and sugar for about 5 minutes, until light and fluffy. Add vanilla and beat vigorously. Reduce the speed to low and add one quarter of the flour, then one third of the milk mixture, mixing until just combined and scraping down the bowl after each addition. Repeat until all ingredients are just combined. Scrape down the bowl with a rubber spatula. Pour the batter into the prepared pan and smooth the top. Bake for 50-65 minutes, or until a skewer inserted into the center comes out clean. Cool the cake in the pan on a cooling rack for 1 hour, then unmold it to finish cooling right side up.
Prepare the icing; place butter in a mixing bowl and beat on high with an electric mixer until smooth and fluffy. Gradually mix in icing sugar, add milk and then beat until light and fluffy. To assemble the cake, use a serrated
bread
knife to slice off the "dome" of the cake. Use a spatula to spread your prepared icing over the top. Cover the icing with 100s and 1000s/rainbow sprinkles (I placed my cake on a wire rack which was sitting over a baking tray to catch any sprinkles that overflowed). Can be served immediately or stored in an airtight container at room temperature for a couple of days.